DARRYL WOOD WINS 2016
EMPLOYEE EXCELLENCE AWARD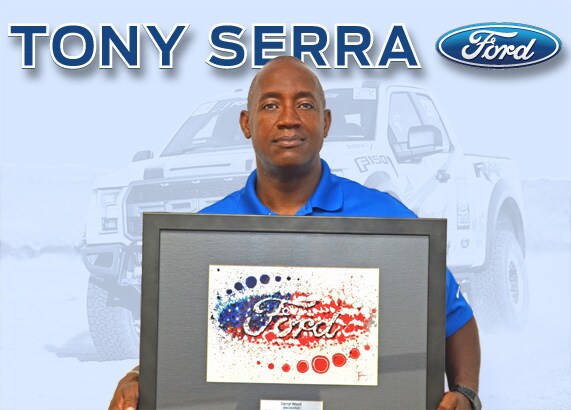 Darryl Woods with his Employee Excellence Award.
TALLADEGA, AL - The Employee Excellence Award is an honor presented by the Ford Motor Company to front-line employees who consistently go further to provide the very best experience to customers. Employees who win the award represent the best-of-the-best from across the nation in customer satisfaction. To be eligible for the award, Ford employees must reach Level 3 Certification by showing themselves to be leaders among their peers; attain a strong record of success in their work; and exhibit the desire to continue improving their job performance.
This year, Ford honored Tony Serra Ford Product Specialist, Darryl Wood. Darryl's overall performance in sales, service and customer satisfaction has ranked him at the highest level among his peers across the Ford and Lincoln Dealer Network.
General Manager, Buck Murray, explains that, "Darryl Woods is an employee who constantly drives himself to meet and exceed customer needs and he truly enjoys working with his customers. Darryl has many repeat customers because he cares deeply about them and works hard to get them the vehicles they want at prices they can afford with the financing they need." Buck says, "Darryl is known as the People Person around here!"
Congratulations to Darryl on a job well done!